Never let it be said that you will keep something forever…you probably won't.   I remember I said that I would "neeeeever ever ever" sell my collection of vintage cookie jars.  But four years ago I opened another Etsy shop just so I could do just that…sell them all.  Well except for a few that mean something to me.  And the mister has his faves the he wants to keep, but forever?   maybe not.   However  they will be passed on to our children, if they don't want them, they can work it out between themselves.
Since my collecting began before my first child was born, all five of my children grew up with my collection.  I suppose I should ask each one if they had a favorite.
Also, never let it be said that patience is not a virtue, because it most definitely is.  Just as persistence is too.  Honestly…if you would have ask me 6 weeks ago if my Muggsey & Mae shop was a success, my answer would have been; eh!  it's just so-so.    I collect a lot of crap sorry, I mean "really cool junk" and over time it builds up and begins to smother me, so I purge.  For this reason, Muggsey & Mae was  a great decision.  I've had a few sales over the span of years, but mostly small items, but I was patient and persistent, listing, re-listing and re-listing. Then all of the sudden…three cookie jars sold in 6 weeks.  Shocking… but I'm lov'n it for sure.
I love that my junk piles are being reduced.
I love that these  sweet cookie jars are going to loving homes. I know they're not puppies, but I'm attached all the same.
I love the extra money 🙂
I love hearing back from the buyers once they've received their cookie jar…they are wonderful stories.
I love that I don't have to worry about them breaking or being damaged anymore.
I love that I had this journey in collecting vintage cookie jars.  I learned a lot and will always have an affinity for cookie jars.
So…goodbye to my big gray smiling chef bunny cookie jar by Brush Pottery Company. You sat on my cabinet right next to my stove for umpteen years.
You will be missed….You were one of my favorites.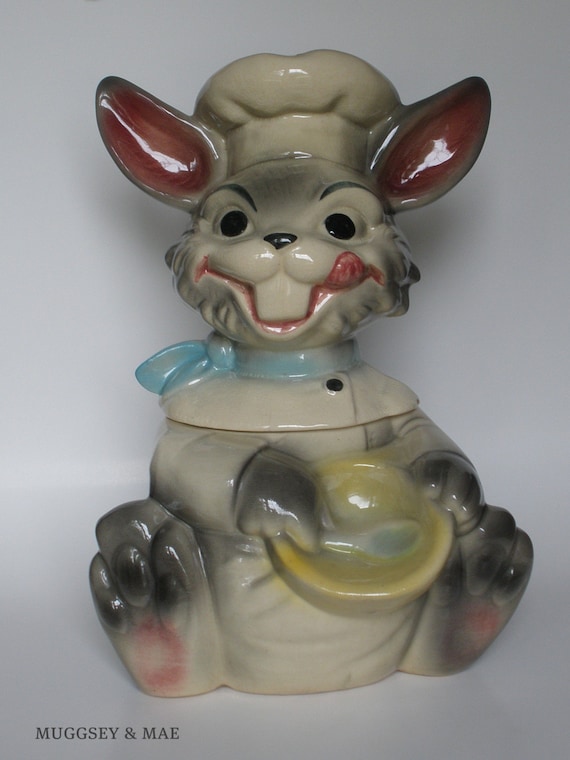 And I'll miss seeing this little sweetie on my storage shelf…
Little Girl Bear in Blue dress with cookie by American Bisque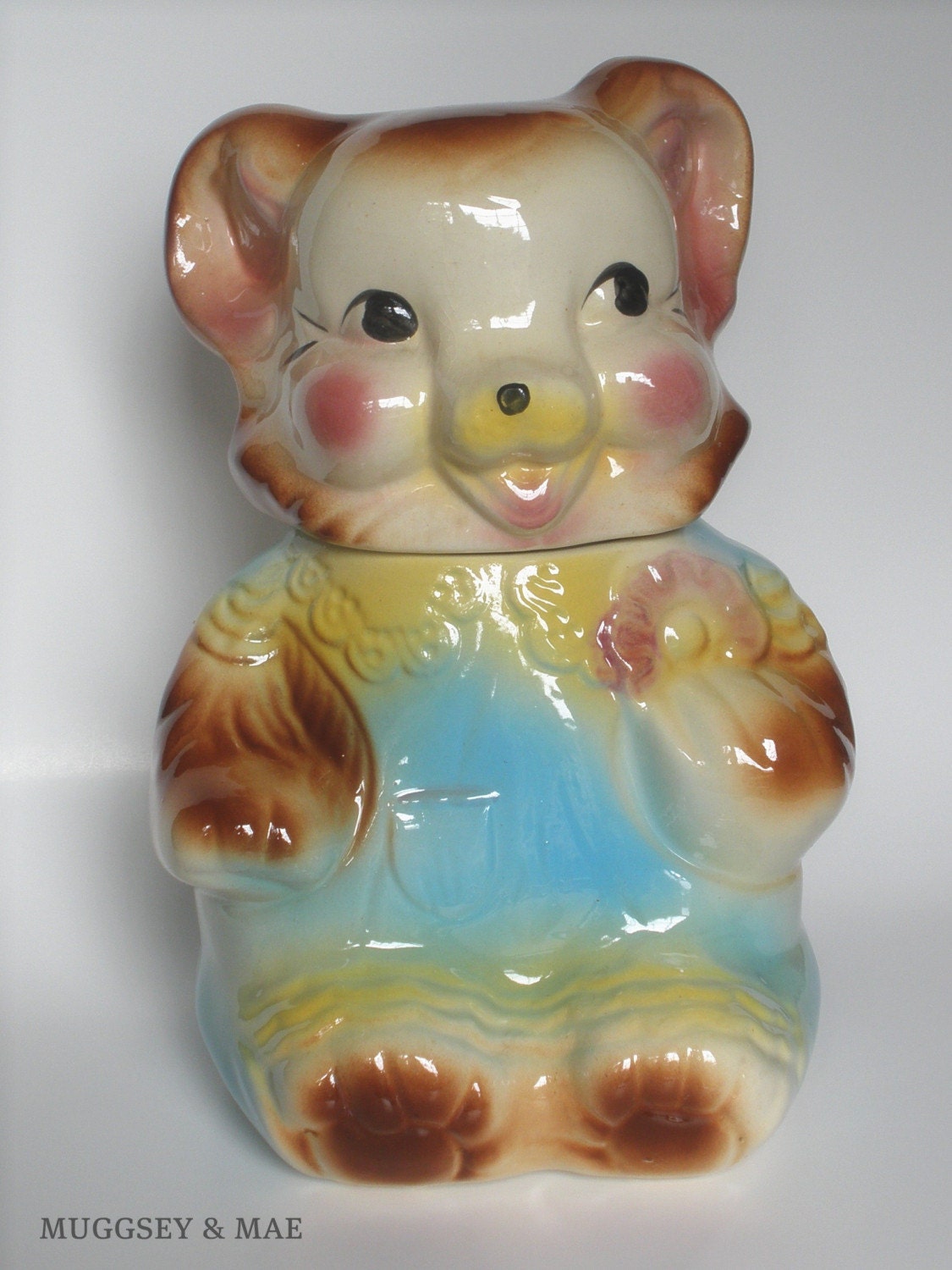 It was fun having this lovely McCoy cookie jar in my collection, simply named "Dutch Boy"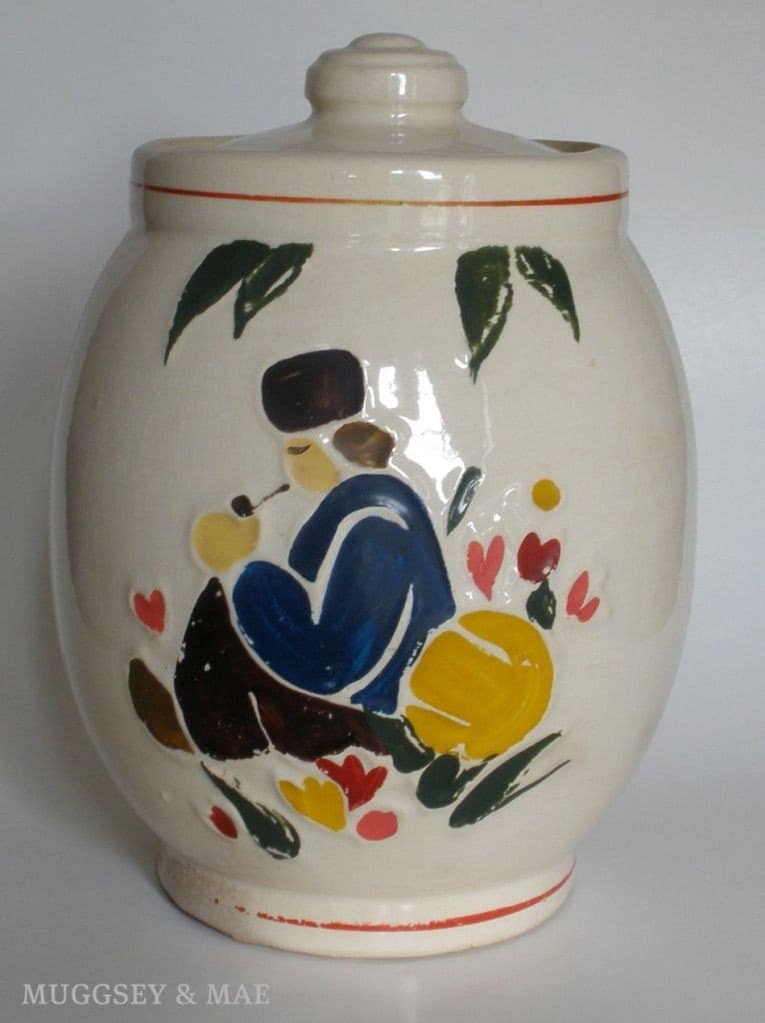 *sigh*
I still have a bunch left…some already boxed and ready to ship, some sitting on storage shelves, some on display.
I have to say that the journey of collecting these beautiful vintage cookie jars has been fun, but I'm finding that photographing and promoting them is pretty fun too.
Have you seen all the awesome cookie jars on Pinterest?  Wow!
I'm having so much fun these days that I've kinda started collecting again…virtually anyway.
I opened a Pinterest board just for vintage cookie jars.
Of course new ones go on there too, but the vintage are my faves.
Do you remember growing up with a special cookie jar? 
Do you ever wish you could find that special jar again?
okay…now who wants a cookie?