I can't believe it's almost been a year since we completely renovated our entry, den and sun room. Where does the time go?
Remember my ugly antique brass chandelier hanging right inside my front door.  I didn't really pay much attention to it until we got things put back together and I began to stage my entry area for last spring.
When it came time to take photos, guess what? It stuck out like a sore thumb. I hated it. When guests come in I pray they don't look up. So much for first impressions.
Jim and I went back and forth with ideas about what to do about the light fixture in this area. We got all kinds of help…son #2 said the light was too small, that the room swallowed it up.  He may have a point, according to the experts, the size for this 7′ x 8′ area would be 15″ in diameter.
"A good way to determine the correct size fixture is to add the length and width of the room measured in feet, then convert this number to inches. If your room measures 18′ x 22′, look for a chandelier with a diameter of 40 inches.

An important factor to keep in mind is that this rule of thumb assumes that you have a ceiling height proportional to the room's dimensions. Hanging a large chandelier in a room with 8 foot ceiling will not work."
The ceiling height is 9'…  humm!  My ugly 80's antique brass chandy is 7″ in diameter.   It is a wee bit small-ish.  But when I began looking at examples of what I wanted,  I began to consider some more affordable options.
There was a pattern of what I would like in this area….
can you see it too?
Ballard Designs Calisse Pendant starts at $299, that's way out of my budget.
[source]
Pottery Barn's Patterson Pendant $199 on sale…still out of my price range.
[source]
The Fillament Pendant from Restoration Hardware was a bit to simple however the price was difficult to swallow…$375
others ranged from $295 and up.up.up!
Yikes!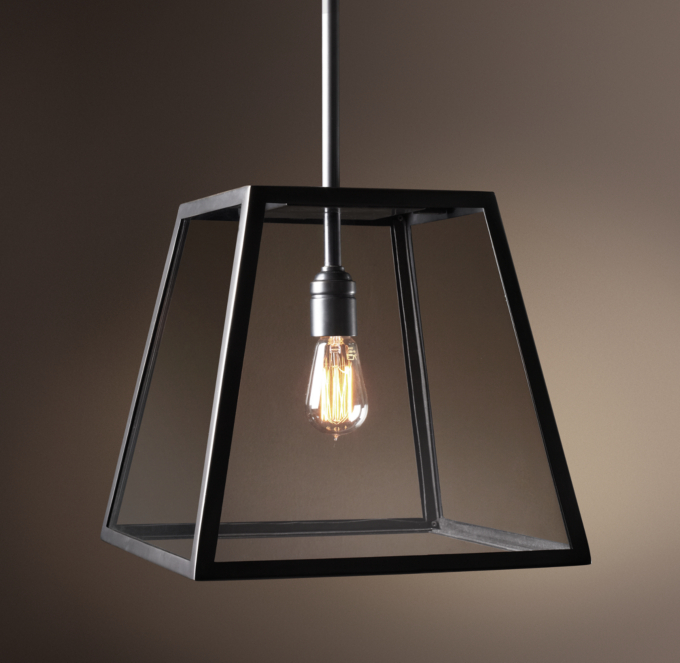 [source]
Did you notice the pattern of what I would like in this area?
If you guessed simple…(ding.ding.ding) you were correct.
If you guessed black…(ding.ding.ding) you were also correct.
If you guessed expensive…(wah.wah.wah) you are wrong!
So guess what I did instead.
yup…I painted it.
I mean you have to admit, it's simple and black.
and maybe it is too small for this area,
but…
it only cost me $12!
Can of black spray paint – $4
Edison style light bulb – $8
Burlap cord cover – $0 (scrap burlap piece from my stash)
We removed the beveled glass panels and debated putting them back in…
I won the debate, it's more funky this way. and besides the awesome light bulb is the focal of the piece, without the glass it stands out. plus…I don't like keeping the glass clean.
So now that I have all this money that I saved by not buying a new chandelier I get to shop for new hardware for my kitchen cabs.
Are you wondering what I'll do with those glass pieces?
humm?  Well, what would you do with them?
peace.love.rust